Last updated: Friday, March 10, 2023
Affiliate marketers: It's time to get in on the big Artificial Intelligence trend, right?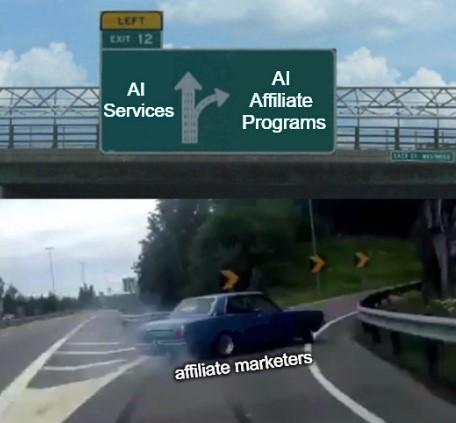 But: Choose your weapons carefully. Many of the biggest and most well-known AI services do NOT have affiliate programs.
For example: chatGPT does NOT have an affiliate program. Bing A.I. does NOT have an affiliate program. Midjourney does NOT have an affiliate program. Dall-e and Stable Diffusion? Nope!
These jokers want you to promote their services for free! No thanks!
So, it's time somebody stepped up and compiled the definitive list of AI Affiliate programs which pay real money. Let's do it....
---
1. Speedwrite affiliate (link)

30% on subscription payments
30-day cookie
platform: Rewardful
payments by PayPal
Speedwrite's affiliate program is interesting for a simple reason: the service that Speedwrite offers is very different any other AI service.
There are a zillion other AI text generators, but from an affiliate marketing perspective, they all have a HUGE problem: These other services are competing HEAD-ON with FREE offerings like chatGPT and Bing compose.
Find out about ➡️ what Speedwrite does, and why it's different from other AI text generators.
---
2. Synthesia affiliate (link)
20% on subscription payments
60-day cookie
platform: Rewardful
Do your users need to make marketing videos? Training videos? Political propaganda? Something else with a "talking head"? Synthesia has them covered! Throw in some text, and Syntheisa spits out a reasonably ok video of someone talking. Could be useful!
3. Grammarly affiliate (link)
$0.20 per free signup
$20 per premium upgrade
platform: HasOffers
payments by check, bank wire, direct deposit
Yeah, you've heard of these guys. Not sure if they are strictly an "AI company", because they have been around for a long time, but their service definitely uses AI, and they've got a strong brand name, and their writing assistant is well-known. One issue you might have: Grammarly has been around for a LONG time. This means, practically, that many of the people who could sign up for Grammarly, might have already done so. This could impact your conversion rate.
4. Bit.ai affiliate (link)
A document collaboration platform for docs, notes, wikis, and lots of other things that business and educational users need. Does this bore you completely to death? No? Then this program could work for you. Is it really different from Google Docs? Who cares! They're gonna get you paid for subscriptions. Good if you have corporate or educational traffic.
5. Seamless.ai affiliate (link)
40% commission per license
payments by PayPal
This could work if your audience are marketers, or anyone in sales that needs "leads". Seamless "tracks down" potential customers so marketers can "reach out" to them by phone, email, and more. Just don't call it SPAM, and it's all good!
6. Notion affiliate (link)
50% on Plus or Business upgrade
90-day cookie
platform: Partnerstack
Notion has raised a seriously disgusting amount of venture capital funding, which they are currently blowing through by spending massively on marketing. What does this mean for you, Mr. Affiliate? They will get you paid! Potential downside: because they have SO much funding, they seem to be more motivated by user growth, instead of revenue. Practically, this means you could refer a lot of users, who will then opt for the free plan, resulting in zero payments for you. So this offer might be best if you have a lot of business and professional traffic, who might be ready to pay-up for one of the paid plans.
7. GetGenie affiliate (link)
up to $30/month per subscription
GetGenie is promising a lot -- basically, type in a few keywords and they're going to scan your competitors webpages, write the content, and allow you to sit around in front of your TV, while they turn your Wordpress website into a huge SEO hit. Will it work and actually rank on Google? Not sure. But don't think too deeply about it: If you have traffic that is relevant to Wordpress, this could be good for you.
8. Marketmuse partners (link)
Not a lot of info about this one. Seems like they do something with "content strategies" -- whatever that means. Judging from their pricing, this has ENTERPRISE written all over it. This service is not for the little guys -- they're trying to bring in the whales. Do you have inside connections at bigger businesses? Do you know any diversity coordinators or other creatures of the corporate world? Try selling this one.
9. Jasper affiliate (link)
30% commission
30-day cookie
platform: FirstPromoter
payments by Paypal
Jasper has gone through a few brand changes -- it seems they were "conversion.ai", and then "Jarvis", and now they are "Jasper." But who cares! These dudes have a PILE of venture-capital funding, and it looks like they are ready to burn it big with Affiliates! 30% is quite a big offer, and, judging from the number of affiliates who have jumped on this, my guess is that they're good with payments.
Another interesting thing. In their documentation for affiliates they insist....
"If you are running paid search campaigns, the only targeting restriction is you are not allowed to bid on branded keyword search terms such as "Jasper.ai" and "Jasper Pricing"
Basically, this means: Don't poach users who are using Jasper's branded keywords. And -- fair enough. But in researching for this article, we found something a little bit unusual... Check this out: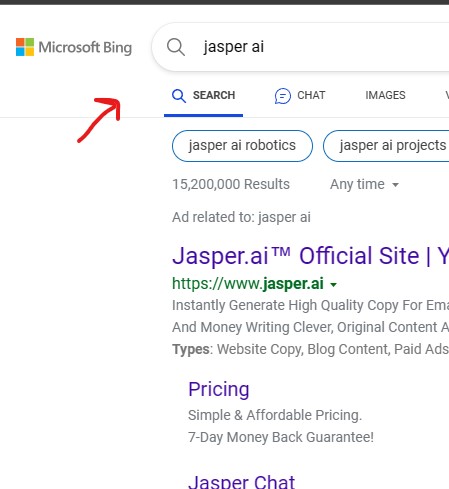 So, here I have used Microsoft's esteemed search engine "Bing" to perform a websearch on the term "jasper ai". I could have used Google here, but just for fun I tried it first with Bing. Obviously, what comes up first is a big fat ad for Jasper, pointing to their official site. Nice!
That's totally normal and expected. But let's scroll down the page to the bottom....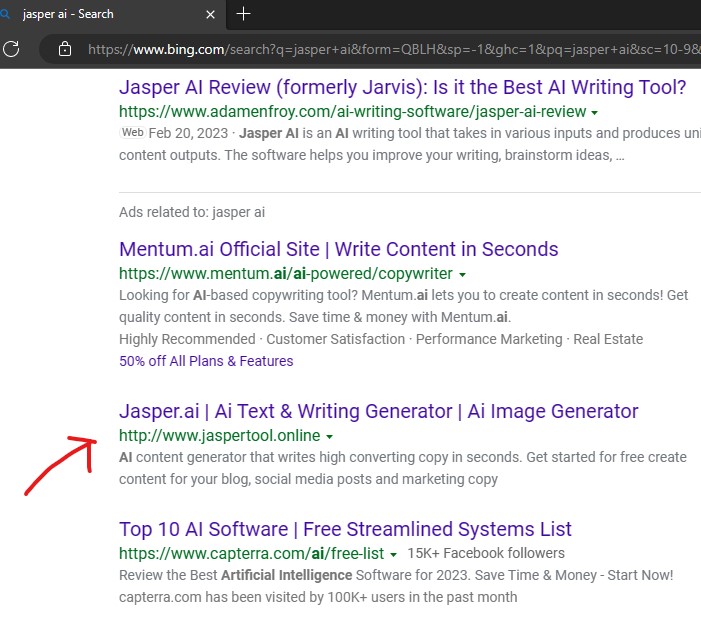 Hm... what is this "jaspertool.online"?

Interesting, so this just redirects to the Jasper homepage, but with an affiliate link. MAYBE: This affiliate is skirting Jasper's rules, and buying traffic on their branded "Jasper" term, and then redirecting that traffic to Jasper. Hilariously, by bidding on Jasper's branded term, it seems this affiliate might also be increasing Jasper's costs by competing with them in the ad auction, for their own branded keyword. Fun!
Caveat: There could be another explanation. It might be that Jasper has their own "in-house" affiliate, that is doing this. We're not making any accusations here, we just want to point out something interesting.
10. Kafkai affiliate (link)
30% to 50% per subscription
platform: Paddle
Similar to free services like chatGPT, or paid services like TextCortext, Kafkai produces "standard quality" marketing copy. They are going for SEOs and marketers, definitely, but we have our doubts if content produced like this would actually rank on Google. Google can be dumb, but they are also reasonably competent at sniffing out mass-produced stuff like this. Anyway, that's not your problem, you're just trying to sell Kafkai subscriptions! And on that note, there is something pretty interesting in their affiliate terms...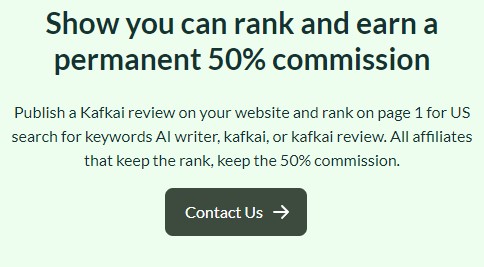 Let's translate this. They're saying something like: "Dear Affiliate, please front-run our branded keywords. Rank higher for our own keywords, when compared to our website, and then we'll give you half our revenue." Not a bad offer!
11. Headlime affiliate (link)
Not a ton of info about this one. Seems like they are providing a service fairly similar to Jasper, TextCortext, etc.
12. Fylm.ai (link)
20%% on plan purchase
platform: impact
Fylm.ai is a "color grading" service? If you have no idea what that is, then please skip to the next in the list. If you DO know what that is, and you have users who need color grading & correction, then this niche offering could be perfect. Fylm.ai uses AI (or, maybe just computers, but who cares), to help with the tricky & complicated process of color correction for film and video.
13. Designs.ai affiliate (link)
25% on each successful purchase
45-day cookie
platform: Shareasale
payments by Paypal
Logos, videos and designs -- are you users looking for these? If so, this could be a good program.
14. TextCortex affiliate (link)
30% for lifetime of active customer
$20 per premium upgrade
platform: Rewardful
payments by Paypal
Good payouts, good looking website. TextCortext seems to be focused on the marketing space. Do your visitors need marketing copy? This might be a fit. Potential challenge: It looks like Microsoft's Bing Compose (which was built from chatGPT), will soon offer very similar functionality for free. Do you think your users would pay for this?
Also, if you explore TextCortext's website, it looks like a lot of their actual website may have been written using their own technology. Check out some of their blog posts... the tone is strikingly neutral and a bit bland. Like this paragraph:
Affiliate programs are beneficial for both the company and the affiliate because there is no cost associated with it, which makes it an attractive option for businesses of all sizes.
Is this the sort of "copy" that marketers will really use, and that will get ranked on Google? Maybe... but, let's be honest... does really bland GPT-generated marketing copy actually rank well super-well on Google? Hm....
15. Speak affiliate (link)
25% on recurring income
60-day cookie
platform: Rewardful
payments by Paypal and Wise
Speak is a data analysis solution, so this will be best if you have B2B traffic. Users bulk-upload data -- like text and audio, and the Speak spits out recommendations, or something like that. This is a pretty tight niche: It's really for businesses that have a lot of "unstructured" text data that they want to make sense of.
---
Honorable mentions
16. Trinka - 25% commission (link)
17. Paragraph.ai (link)
18. Bertha - 20% commission (link)
19. Logoai - $20 per sale (link)
20. Tailor Brands - up to $500 per sale (link)
21. Switchboard - 30% commission (link)
22. Metigy (link)
23. Fireflies (link)
24. Pixis - 15% commission (link)
25. Superops - 25% commission (link)
26. Neuroflash - 35% commission (link)
27. Longshot - 40% commission (link)
28. Shakespeare - 40% commission (link)
29. Writesonic - 30% commission (link)
30. Copy.ai - 45% commission (link)
31. Article Forge - 25% commission (link)
32. WordAi - 25% commission (link)
33. Content At Scale - 15% commission (link)
34. Anyword - 40% commission (link)
35. Hypotenuse - 30% commission (link)
36. Windsor.ai - 20% commission (link)
37. DesignHill - 20% commission (link)
38. Deep Art Effects - 25% commission (link)
39. Pictory - up to 50% commission (link)
40. Fliki - up to 30% commission (link)
41. Colossyan - up to 50% commission (link)
42. Simplified - 30% commission (link)
43. Texta - 30% commission (link)
44. Writer.com - 30% commission (link)
45. Sudowrite - 30% commission (link)
46. Growthbar - 20% commission (link)
47. Invideo (link)
48. FlexClip (link)
49. Taskade (link)
50. AdCreative - 25% commission (link)
51. ABtesting.ai - 50% commission (link)
52. Warmbox - 30% commission (link)
53. Smartlead - 40% commission (link)