Other paraphrasers don't pass plagiarism tests.
Only Speedwrite generates new, original, and well-written text.
---
We did some research on the internet...
We searched on Google ... for "paraphraser", and tried all of these...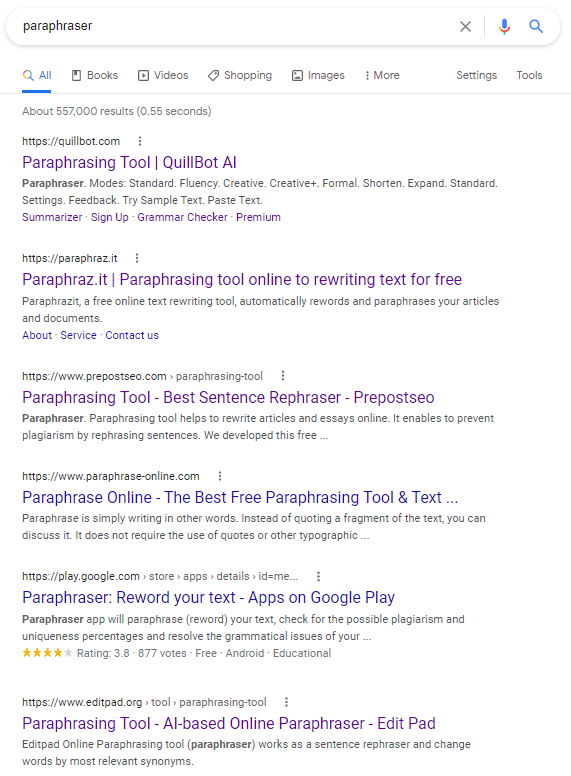 We tried a bunch of tests on these paraphrasers, and found...
| | Passes Plagiarism Tests | Good English Writing | Unique Each Time | Fast Results |
| --- | --- | --- | --- | --- |
| Quillbot | | | | |
| Paraphraz.it | | | | |
| PrepostSeo | | | | |
| Paraphrase-online | | | | |
| Editpad | | | | |
| Paraphraser (Android) | | | | |
| | | | | |
Here are the details. For each paraphraser, we tested this demo text, from Wikipedia...

An internal combustion engine (ICE) is a heat engine in which the combustion of a fuel occurs with
an oxidizer (usually air) in a combustion chamber that is an integral part of the working fluid
flow circuit. In an internal combustion engine, the expansion of the high-temperature and
high-pressure gases produced by combustion applies direct force to some component of the engine.
The force is applied typically to pistons, turbine blades, a rotor, or a nozzle. This force moves
the component over a distance, transforming chemical energy into useful work. This replaced the
external combustion engine for applications where weight or size of the engine is important.

Other online paraphrasers: high plagiarism scores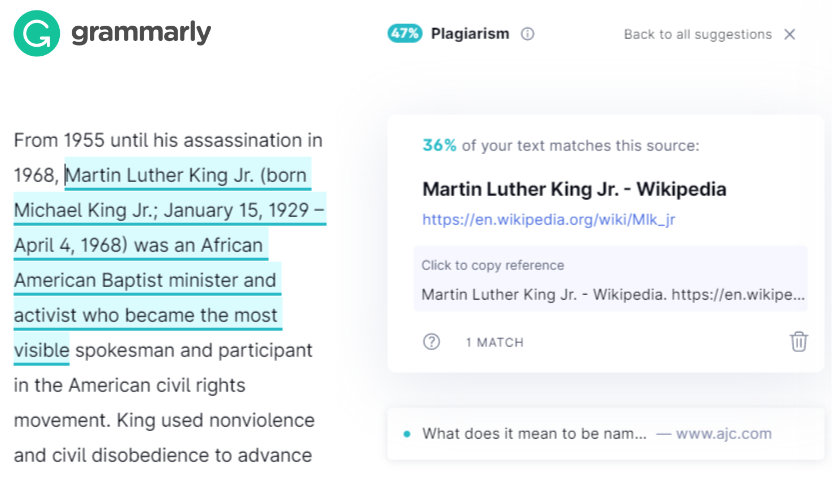 Speedwrite: A perfect score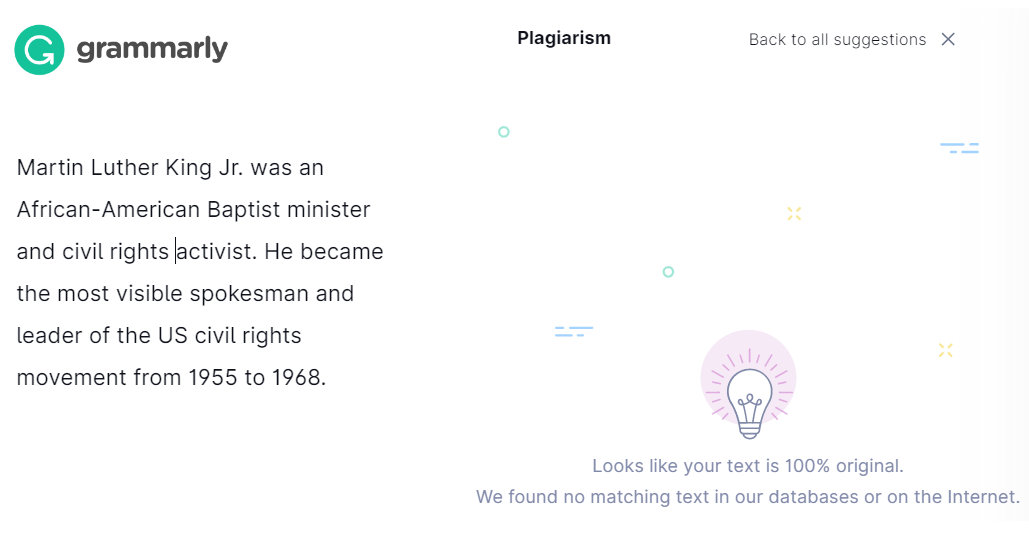 ... But that's not the only reason Speedwrite is a better paraphraser....
Unlike the others, Speedwrite actually writes with great style. Other paraphrasers either produce bad writing, or writing that is just total nonsense gibberish, not even English. Speedwrite is the only paraphraser that generates really good text, with well-formed, intelligent paragraphs. Let's look at an example:
Other online paraphrasers: terrible writing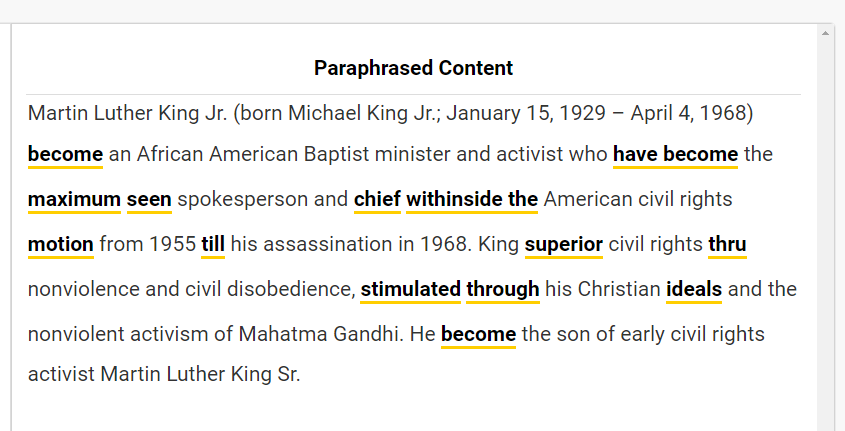 Speedwrite: really excellent writing.

...And other paraphrasers have problems with repetition....
Other paraphrasers don't modify the length of your input. You get paragraphs that are nearly exact duplicates of your input paragraphs. It's obvious that the output paragraphs are derived exactly from the input paragraphs...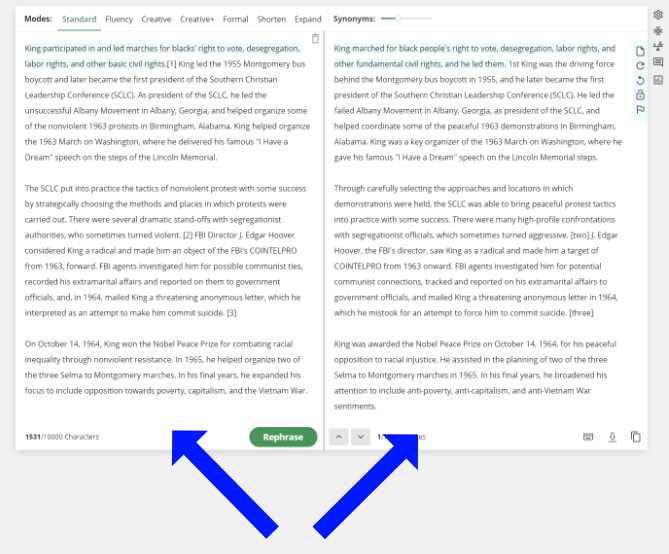 Speedwrite is the only paraphraser that intelligently re-writes your input, to make new, original text....

Other paraphrasers write text that is only good for computers to read....
Look what happened when we put this text into Google's #1 search result for "paraphrase"....

Compare that to what Speedwrite creates, from the same input...

Ready To Get Started?
Feel free to try the other options we list above. I think you'll find that only Speedwrite is able to generate really convincing, well-written English text.
Got some questions?
This page is a demo of Speedwrite, a paraphraser designed to work on all devices, to show you what Speedwrite can do. For serious work, please use the primary Speedwrite application. It works on any computer, like Windows, Mac, Linux, and Chromebook. It's a lot faster to use, allows for longer inputs, more than one paragraph generation at once, loading and saving of documents, and more.
This page is only a demo -- the text box at the top of this page can accept only one paragraph. To use longer-length text, please move over to the Speedwrite application, here.
Start with clearly-written creative-commons text, like text you might find on Wikipedia. Don't input text with errors or incomplete sentences. Speedwrite has to figure out what each of your input paragraphs is "about" -- to help it out, each paragraph that you paraphrase should be focused on only one subject.
Using Speedwrite, you can take any creative-commons text, such as articles, scientific texts, Wikipedia pages, and more, and paraphrase them into unique writing, that the world has never seen before. This process happens automatically, using new technology developed by Speedwrite.
A Speedwrite paraphrase will extract the important points from the text that you enter, but re-write it each time to generate a unique output text.